Lunch Break Sex -We knew the kids were gone to camps and activities.  Shelly was home and I was at work.  We had been sexting all morning.  She had me in quite the state.  I sat at my desk with a raging hard on.
I heard all morning how wet she got at the thought of my fingers inside her pussy, how much she wanted to have my cock in her mouth.  I texted back how I wanted to have her cum dripping off my chin, and how much I liked it when she licked her own juices off my face.  She wanted to get her hands on my cock. I wanted to get my fingers in her pussy.  It was a mutually aggressive desire for sex.
The entire sexting conversation had us starving for one another.  I was counting the minutes until I could leave for lunch.
When the time finally came, my impulse was to put the pedal to the metal.  If I flew, I could make it home in about 7 minutes.  I made it in 10.  As I pulled onto our street, I saw the garage door going up.  When I pulled into the driveway, I saw why!
Here was my beautiful wife, bent over the rear bumper of her car.  She had her skirt hiked up around her waist, her pretty little ass in tiny pink panties gyrating in time to a sensuous tune in her head.  She had never done anything like this before.  None of the neighbors were home or they would have had the same awesome show I got!  If my hard on wasn't big enough, it grew yet again.
I pulled up, hopped out of the car and ran to embrace her….smother her might be a better word.  I wrapped my arms around her, locked my lips on hers and drove my tongue into her eager mouth.  I couldn't pull her close enough…I wanted to absorb her.
She was as hot as I was.  Right there in the garage, she whipped my belt off, unzipped my pants, and released my hard cock from the confines of my briefs.  With a lust in her eyes that drives me insane, she pulled me into her mouth and began to eagerly suck my shaft.  She reached around, grabbed my ass and pulled me hard into her mouth until I was completely buried in her mouth.  Her guttural groans only added to my excitement.
She stood up and I slipped two fingers into her panties then further into the tender and wet folds between her legs.  She was soooo wet already.  I worked my fingers underneath and inside her to make sure I had good penetration and then began to thrust my fingers hard into her pussy.  In just moments she exploded into orgasm, her juices drenching my hand and her panties.  I brought my hand out and lifted it to her lips, locking my fingers between our tongues while we kissed.
It was more than we could stand.  I grabbed her hand and we about ran up the steps to our bedroom.  I mauled her…my hands going over all of her body.  I squeezed her braless breasts, tweaking her nipples as I went.  I groped her ass with both hands, pulling her hard into me in the process.  Our lips were devouring each other.  She was doing the same to me.  She had unbuttoned my shirt and buried her head in the hairs of my chest.  She reached around and squeezed my ass, then moved her hands to grab hold of and squeeze my balls.  All the while, still devouring one another with our kisses.
It was then she began to plead with me.  "Take me now!  I want your cock inside of me!" I, too, was out of control with lust.  She whipped her panties off, and threw herself down on the bedroom floor, her legs spread wide to take me in.  I dropped my pants lowered myself to the floor and with little ceremony, plunged my rock hard cock into her wet, hungry cunt.  She moaned with pleasure and I began to thrust hard and fast into her.
It didn't take long before her hips began to feverishly lift to meet my thrusts.  In moments, she exploded into orgasm.  It pleasures me greatly when I can bring her to the point where she explodes.  I love driving her to cum.  I like to know I am the one who brings this beautiful women to such heights of passion.
After holding each other for a little while, I finally withdrew myself from her.  "That was the most awesome lunch break sex ever," I whispered in her ear.
We kissed again, got up from the bedroom floor and headed to the kitchen.  Shelly told me I needed real food….I would need my strength for tonight!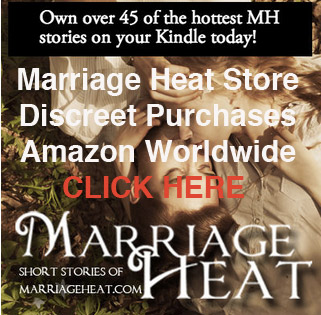 We are sorry that this post was not one of your favorites!
Help us understand why.
https://marriageheat.com/wp-content/uploads/2013/03/traveling.jpg
240
360
cmghome
https://marriageheat.com/wp-content/uploads/2018/09/Artboard-15xxxhdpi.png
cmghome
2014-02-07 11:32:08
2014-02-17 23:25:59
Lunch Break Sex