Pregnancy Heat – The Light is Green
When Emma was 19 weeks pregnant, she and John hadn't had sex in 16 weeks. Not since she found out. There were multiple reasons for this. The first being that they had suffered an early miscarriage a year and a half earlier and Emma didn't want to do anything that could possibly jeopardize this pregnancy. Secondly her morning sickness hit hard and fast at only four and a half weeks.  It had gotten so bad that at nine weeks they had taken her to the hospital as she was vomiting blood. The last being that she was a negative blood type, and if she were to have any bleeding she'd have to go straight to the hospital. All very practical things- but she knew John was really missing the intimacy.
She was tidying up their bedroom one Tuesday afternoon when her phone dinged with an email from John. She opened it and it was a forwarded email from a different section of his company offering him a position- one he had been working so hard for. Immediately Emma knew she should have sex with him. He had been working so hard at work and taking such good care of her and being so patient. The guilt she had been experiencing became too much and she knew it was time.
Once he got home, she told him that she thought they should have sex, right then and there. They went to the bedroom and did. She didnt want bells and whistles. It was more of a test to see if it could be okay.
Tuesday nights are their family dinner nights with John's family. They hurried off to there. Emma was constantly checking for any bleeding- her mind completely preoccupied with that.
However, when she woke up the next morning and accepted that nothing terrible had happened, she was immediately turned on. She could be close to her husband without fear of her world collasping. She had a breakfast meeting but then came home to think of her amazing husband. She sent him a text message,  telling him that she enjoyed the sex they had the night before and couldn't wait to do it again. She counted the hours til he would return. With only two left she decided to try and clean the loungeroom. Her morning sickness still hung around which made it difficult to complete tasks. She got it into a semi decent state before taking a shower.
As she washed herself and her hair, as well as taking a razor to her underarms and legs, she longed for her husband. She longed to be completely his.
Once he returned home, she waited for him in the loungeroom.  She was simply in her underwear and a white pregnancy tank. This wasn't at all uncommon for her. He gave her the usual run down of his day as he took off his shoes and socks and then laid down next to her on the lounge. They both faced the tv. He began stroking her stomache. His fingers slowly made their way up to her breasts, on top of the thin material of her tank top, the only thing between her breasts and his hands.
She wiggled further into him as a sign that she was enjoying it. He moved his hands to the top of her top, pulling it down to release her breasts. John began playing with her nipples. She wiggled and moaned before turning over to face him. She slid her hand down to the bulge she could feel in his pants.
Emma began to kiss him. John loved kissing and make out sessions, but sometimes they weren't her thing. This was not one of those times. His tounge in her mouth was making her even wetter.
After several minutes of kissing, John lowered his mouth to her erect nipple, which had been made both bigger and darker from the pregnancy. He began sucking which made her pussy even more moist. She grinded up against him, moaning loudly, knowing the moaning would encourage him to keep going. With her one free hand she unbuckled Johns belt and slid his pants off. She placed her hand in his briefs and soflty massaged his balls.
He slid his hand into her underpants. She parted her legs, inviting his fingers to explore. As soon as his finger entered her lips, he moaned at her juices flooding her area.
He looked at her intensely before sitting up and hastily removing her underpants. He slid his off too, without taking his eyes off her. She eagerly spread her legs for him as he grabbed his manhood to place inside of her.
She grabbed his shoulders and winced at the intial pain. 4 months without sex before last night had made her quite tight. Once he was in and began thrusting, her body relaxed. She couldn't believe she wasted so much time without doing this.
Once finished he settled back next to her. However, after half an hour her thirst for him had returned and they went for round two. After dinner she needed him again and they went for round three. Apparently her fear had been the only thing that had dampened her sex drive, which explained the nightly dreams she'd been having for the last three months. With that gone, all she wanted all the time was to be his and to make love to him as they celebrated the life they'd created growing inside of her. Let the pregnancy heat begin!
Check out the Marriage Heat Store
Worldwide Distribution on Amazon for Quick and Discreet Purchases
Click Here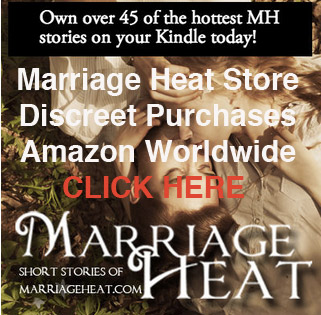 We are sorry that this post was not one of your favorites!
Help us understand why.
https://marriageheat.com/wp-content/uploads/2018/09/Artboard-15xxxhdpi.png
0
0
Jessum
https://marriageheat.com/wp-content/uploads/2018/09/Artboard-15xxxhdpi.png
Jessum
2014-02-08 10:10:12
2019-02-07 08:39:05
Pregnancy Heat – The Light is Green