My newly-wed, Julian,  and I had vowed not to have sex till marriage, but it was hard not to break our vow. We had the wedding in my birthplace, Alabama, though we are from Asheville. We stayed in a hotel, and had our own room, far away from anyone else in our family.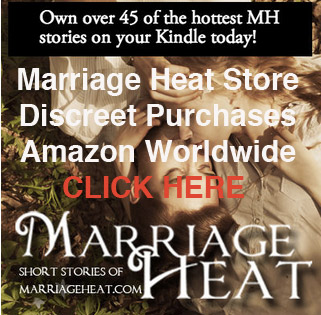 We were both quite nervous. I'm not sure about Julian, but I had been on many sites, trying to get help, so it wouldn't be an absolute mess. I had found this one most helpful, so I decided to give back to it. (Thanks, Marriage Heat!)
I know Julian likes a girl that makes the first move so I told him I wanted to take a shower first, and that he was welcome to join me.
He smiles and says, "yes."
We walk into the bathroom. He closes the door behind us, and looks at me slyly. I walk over to him and pull off his shirt, then trace circles around his pecs and nipples. He moans and closes his eyes. I move my fingers down more, until it's at the top of his pants.
He opens his eyes, and raises his eyebrows at me.
I smile, then proceed to undo his belt, then the button and zipper. I pull down his pants. Now he's standing there in nothing but his boxers. I smile mischievously and take those off too. I tell him it's his turn. He pulls off my shirt, looking hungrily at my breasts. He pulls off my bra. He feels my breasts in his hands, seeing how heavy they are. His soft touch makes me crave more. He then pulls off my shorts. (We had both changed after the wedding and photos.)
He smiles when he sees my thong, but pulls that off too. He whistles when he sees my pussy, cleanly shaved, and already wet.
We kiss, his tongue slipping into my mouth, exploring my mouth and tongue.
Holding each other, we walk into the shower. He turns the water on, hot. We stand there for a minute, kissing, and fingering each other. I reach down and squeeze and tug on his cock. He moans with pleasure and I feel it get slightly stiffer, so I keep massaging it. He smiles, and while I do that, he begins sticking his fingers in my pussy, first one, then two, getting my juices flowing. I smile, and move my hips back and forth to the motion of his fingers, coming in and out of my pussy.
I corner him against the wall, then kiss him again, with more enthusiasm. He responds, and I reach down and squeeze his ass. He tells me to wait for him in the bedroom. I walk into the bedroom, wet and excited. Julian comes out, holding a towel, and his belt.
First we dry each other off, and I spend extra time massaging his now thick cock.
After we're both dry, he tells me to lie down across his knees. I do as he asks. He then playfully spanks me, first with his palms, then the belt, scolding me for not letting us have sex earlier. His spanks don't hurt at all, I know he's just warming up my ass for our sex that was about to happen. It was a turn on to me.
We climb into the bed. He starts sucking on my tits, first the left then the right. He going over them, softly massaging them with his tongue.
I lie down on top of him and guide his cock to my pussy, his eyes also following my hand. He tells me that he wants to do that later. I let go, and give him questioning look. He tells me to lie on my back. He then proceeds to lick my pussy, his tongue flicking around down there. After about a minute, I have my first orgasm. I squirt my juices all in his mouth. Then he instructs me to suck his dick, which I do so happily. He doesn't have an orgasm, but gets pretty darn close.
We lie there and cuddle for a bit, then get serious. I lie on top of him and he sticks his dick into my pussy. (I'd slept with some of the boys in my past and already broken my cherry, but I hadn't been serious with any of them and I felt this experience with Julian on our wedding night was my first real intimate sex adventure) He thrusts in and out, harder and faster each time. I moan, louder and louder. I clutch him, and have another orgasm, this time spewing my juices onto his cock. This is how we end. We are drained, and cuddle together until we fail asleep. We had such a great time.
Thanks for inspiring me, MH!
I hope I have more stories as soon, Lucy.
We are sorry that this post was not one of your favorites!
Help us understand why.
https://marriageheat.com/wp-content/uploads/2013/12/shower_couple_scene.jpg
550
467
lucy.brown.sushi
https://marriageheat.com/wp-content/uploads/2018/09/Artboard-15xxxhdpi.png
lucy.brown.sushi
2014-01-01 16:06:31
2014-02-08 12:11:24
My First Sex Adventure