I woke up to a beautiful morning a few days ago, the sun was shining bright,  and the temperatures were going to be in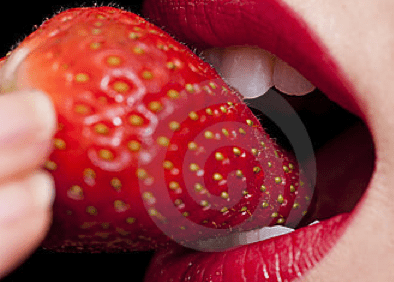 the mid 70's. I decided to throw on  a sundress (spaghetti straps, hem just above the knee), no bra, and a pair of silky, thin, cheeky panties (I love the way the breeze feels when I wear these panties under a dress in the spring time). I was going about my day, as usual, cleaning, running errands, grocery shopping, and all the while enjoying the warm weather as I was darting in and out of the car (It made running errands a bit more pleasant than the mundane chore it usually can be).
While I was shopping I noticed there was a "pulsing" feeling around my g-spot. I was a bit confused because I couldn't figure out what had prompted this feeling of arousal. The feeling started to become more persistent as I walked up and down the aisles. As I stopped to reach and put something in my cart, I looked down to see that my nipples were acutely poking through my dress and were starting to feel tingly.  I was caught by surprise, and then immediately felt my panties becoming damp.  It happened so fast!   I began to feel anxious, and really turned on!   All I could think about was how I needed to get out of the store fast, and for more reasons than one!
 I ditched the cart and made a bee line for the front of the store, hoping not to run into anyone I knew.  As I began walking faster I could feel the slickness between my legs becoming more intense, and the pulsing feeling was now throbbing.  I couldn't get to the car fast enough, all I wanted to do was touch myself. 
I made it to the car without being noticed, hopped in, and looked around to see if anyone was near.  The coast was clear, so I pulled my dress up a bit and reached in to feel a rather large wet spot on my panties, I found myself exhaling with a sigh.  I then slid a finger in under the elastic of my panties to feel my wetness.   Mmmmmmm!  I gasped and  moved my fingers to begin circling my clit, it feel so good… I had to rub harder.  That's it!   I had to relieve myself and it couldn't wait!  I decided to drive to the end of parking lot where no one ever parks (the parking lot is huge).
I started driving, and decided that I had to share this with my hubby once I reached my destination (He always wants me to tell him, in detail,  how I play with my pussy while he's away).  I found a secluded spot near a tree, and threw the car in park.  I whipped my phone out, and texted my husband with one hand as I bunched my dress up around my waist with the other hand.  I asked him if he was on his lunch break, to which he replied,  "Yeah, I decided to eat at my desk today."  
I said, "You need to go to your car right now, there's something on my mind that I need to share with you. Text me once you're in the car."  He said, "Okay."  As I waited for his text, I looked down to see my titties that had been feverishly poking through my dress, I reached down inside the top of my dress and began pinching and rolling my nipples.  Ooooooh, it felt so good, it was sending shivers all the way down to my pussy, which I was still petting.
My phone chirped with my husband's text, and I immediately hit Face-Time to his number.  He answered and said, "Hey Baby, what's up?"  
I said, in a hot breathy voice, "Mmm, just my titties." and pointed the phone at the top of my dress. I began untying the spaghetti straps,  the top of my dress fell down to reveal my large mounds with pink, hard nipples standing at attention.
He immediately groaned, and said, "Oooh, baby, look how turned on you are! Your nipples are huge!" He was licking his lips, "Where are you"?  I didn't say anything,  I was way too horny to even bother responding.
I began squeezing, rolling, pinching and playing with my  globes, and  hard nipples.  My husband said, "My cock is so hard right now watching you play with your big, hard titties."
I said, "Let me see, Baby.  Let me see that rod I love to suck"!  He pointed the phone down, I watched as he unziped his pants and pulled out his long, thick dick.  I said, "Oooooh, baby, I wish I could blow you right now!"  He gave me a good hard grunt. His cock was definitely rock hard, and pointing straight up in its firmest position. It looked soooooo good.  He moaned, and started stroking his member which made me even more hot and bothered (I get so turned on watching him touch and stroke his dick).
I pointed the phone down to my panties, slipped them off, and bent my knees out wide to reveal my smoothly shaved, pink, open pussy, and said, "I need to play, baby, do you wanna watch me play?"  
He groaned deeply, "Oh, man! I love your pretty, tight, little pussy! Play with it, baby, tickle that pussy, I want to watch you make yourself cum."  
My breathing became quickened, and my moans were becoming more high pitched. I watched him stroke his cock while he watched me rub my clit. I started rubbing harder and faster, then went down to slip two fingers in my drenched cunt. Oooh, it felt so good, I started sliding my fingers in and out with ease, faster, all the while spreading my wet sex over my entire pussy. I could smell my sex, and it was all I could do to keep from putting the phone down to use two hands, so I could taste my juices while I touched myself.   "Oooh, baby, here I cum, yes, yes, YES!" I squealed.  
He said, "That's my sweet girl, do it, baby, get yourself off for me you naughty girl!"
I could see his hand pumping his dick harder. Watching him and hearing his demands made my pussy clinch around my fingers, and yell,  "YES, YES, OH FUCK, YES!  I'M CUMMING, BABY, YOUR NAUGHTY WIFE'S SWEET CUNT IS CUMMING FOR YOU, BABY… "   And just at that moment, I squirted  hard. I gushed my sweet juices on the phone, on my dress, on the car seat, and on the steering wheel. I looked down to wipe the juice off my phone just in time to watch my man squirt his creamy cum (I couldn't help but notice the empty feeling I had in my mouth and throat from missing to suck that load).
I started looking around making sure no one had seen my display, and sat up to start putting my dress back into place, trying to catch my breath, and licking my juice covered fingers.  
My husband  said, "You are such a hot wife! I love watching you play with yourself! You are the best, I love you!"  
He made me smile. I sat back and decided to let my perky titties hang out so he could see them for a little while longer before we had to go. I said, "I love you, too, babe. You make me feel so complete. Oh, by the way, please don't be late coming home tonight (I was still licking my fingers).  I'm going to be very hungry since I didn't get to eat my lunch!"

We are sorry that this post was not one of your favorites!
Help us understand why.
https://marriageheat.com/wp-content/uploads/2014/03/Screen-Shot-2014-03-27-at-9.05.16-PM.png
282
394
lovegood
https://marriageheat.com/wp-content/uploads/2018/09/Artboard-15xxxhdpi.png
lovegood
2014-03-29 09:12:06
2014-03-29 09:12:06
Lunch Break (L)