Sex Wisdom -Wives: Reasons to Love Your Body
Sex Wisdom – I know a lot of wives, including me, can struggle with body image at times. I struggle with adjusting to the weight gain, and the change in my breasts I had after having 5 kids. I went through a really rough time where I was not comfortable with my appearance, I doubted my sexiness, and I doubted how my husband viewed me. I am glad to say that, with the help of God, Jesus, and my amazing husband, James, I am much nicer to myself and I believe that my husband finds me attractive. Here is basically the beginning of the end of that journey and I pray it helps some other wives to not make the same mistakes I did.
It was after giving birth to our 4th and 5th children, twins, that I really became uncomfortable with my appearance. This is where I made my HUGE mistake. I was so unhappy with myself that I convinced myself that James didn't find me attractive anymore. Because I convinced myself of this, I made an even LARGER mistake, I reduced the amount of sex we were having. It was very selfish of me to do, it wasn't because I didn't love, or want, or need my husband. I was just so terrified of him looking at me and not being turned on. My goal was to lose the weight and then we would resume our normal sex life, but it took longer than what I thought it would. After 10 months of having very sparing sex, I was depressed because I felt gross, and I missed my husband, and James was depressed because he thought the reason had to do with him.
On the evening everything came to a head, we were getting ready for bed. I had put my pajamas on and was brushing my hair, when James came over, slipping his arms around my waist and nuzzling my neck, something that always gets me going.
"Why don't you set down that silly old hairbrush and let my fingers do the work, huh?"
"Not tonight baby, the kids gave me a really rough time today." I felt his arms gruffly let go of my body and I could feel the warmth of his lips against my neck vanish as he pulled away, stalking over to the other side of the room.
He gave a deep sigh, "I don't believe you."
"What?" I turned to face him.
"Leah, I don't believe you. This isn't how our marriage was," he sat down on the bed, and I saw the hurt in his eyes, "We had sex regularly. Even when the kids where giving us a rough time we never went more than a week without making love. Now we almost never make love. We do it once a month, if that. Baby, what's going on? Please let me in."
I was in such shock that I stammered out some nonsensical reply. James slowly ran his hands over his face and looked me straight in the eyes. There was so much hurt, that I wanted to cry and throw my arms around his neck and just hold him until it went away.
He took a slow breath, "Am I not a good lover?"
"Baby, no, you are the best lover in the whole world. No one can do to me what you do."
"Are you not attracted to me anymore?"
"Sweetheart you are by far the sexiest man alive," I was pleading at this point, almost crying.
He took a long pause and asked very softly, "Is there someone else?" I lost it at that point. I knew I had to tell him, I had been so selfish and had put my loving husband through so much that he thought I was with someone else.
"James, no, no, no, no, a thousand times no," I choked through my tears, "There is no one but you that I share myself with. You…"
"Leah what the heck is it then," he had tears in his eyes now, "I feel so lonely, so rejected. I miss you. I don't know what's going on and I feel like I'm losing you. And I don't want to lose you, you mean so much to me. Leah, I'm begging you please tell me, and please let it be the truth."
I was crying so hard at that point, I felt so guilty. I ran to him and cradled his head in my arms and chest. He pulled me in and held me so tight, and in between one of his sobs I heard him ask, "Please?"
"Oh my James. I'm so sorry to have put you through this. The truth is I've been so selfish. I'm so unhappy with the way I look right now. I feel fat and disgusting, and I just can't believe you would want to look at me. I've been trying so hard to lose the weight to be sexy for you again and it just won't go away. And here you are, and you look so fantastic, and all you have is dumpy, dowdy me to look at. This has nothing to do with you. You are such an exquisite lover and I've missed you so much as well, when I agreed to sex its because I couldn't take it anymore. I just had to have you in me. And now I feel so horrible for making you feel worthless. I'm so sorry, I really don't deserve you or your love. I have been a terrible wife and I've failed you in the wedding vows I took, I'm so sorry." I dropped my head down and cried so hard, I just felt awful.
James looked up at me and asked, "Really? That's all that was bothering you?"
"Yes," I chocked out. He swept me up and laid me down on the bed and began peppering my tear-stained face with kisses. "What has gotten into you,"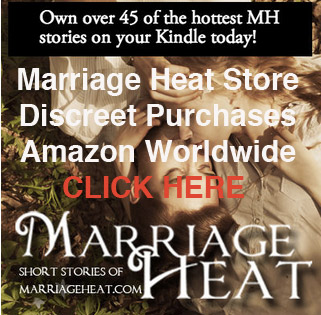 I hiccuped.
He paused his attack of kisses on my face, " You. First of all, I forgive you and I love you very, very, very much. You would have to do a lot to make me stop loving you. Secondly, you are not a terrible wife. In a weird sort of way, I am flattered by this. I'm flattered because you love me so much that it is a top priority for you to look attractive for me, well, what you think I think is sexy. Thirdly, you are not fat or ugly or anything like that. I find you very attractive and very sexy."
"How? What is so sexy about all this blurgg," I moved my hands above my body from chest to thigh, repeatedly. James grabbed my hands and kissed them, slowly nibbling around my fingers, the back of my hands, and palms. He place them on my heart.
"Lots of things. I find your new softness gives you a more womanly, warm, soft, cuddly figure. Those little stretch marks from pregnancy remind me of how much you love me, because you would carry our children in you for 9 months. The little wrinkles and aging imperfections soften your appearance and show how beautiful and how real you are. I love your butt and thighs and now I have more to grab and squeeze and tease. Those little love handles, they have their name for a reason and they give you delicious curves. Overall, there is a little more of you for me to love, touch, kiss, tease, and pleasure. You are such a sexy woman and wife, my darling, let me love you and all of your gorgeousness."
I now had different tears running down my face, happy ones. Silently I thanked God for this man who loved me this much, and then I just wanted to get our clothes off. We made love so many times and in so many different ways that night. It was fantastic.
So ladies the moral of the story is, don't feel bad about your body. God gave you this body, and he made us all beautiful. Just remember that while you may see all these imperfections, the man who loves you almost as much as God and Jesus do, doesn't see them as imperfections. Talk with your husband about how you feel. One of the things James and I do is give each other compliments throughout the day, they can be about anything, but make sure at least one is about how great they look. It really boosts your self-esteem and his. Also buying lingerie together is very fun. Let your husband pick some pieces out, and also get some pieces to surprise him. Any other ideas for boosting self-image work great too! Enjoy your husbands ladies, and let them enjoy you too, because you are all each other has, so make the most of it!! God bless, and happy findings!!
Sex Wisdom Note
Sex wisdom is extremely valuable. Helpful sex wisdom in this anonymous forum allows you to be honest and share the struggles, joys and steamy journey of marriage heat. Articles like this add to a growing collection of sex wisdom here at marriage heat. Marriage heat is visited by a large number of Christian newlyweds who desperately need this sex wisdom.  Stories like this help husbands and wives overcome marriage sex walls. Submit sex wisdom stories and bless lives!
We are sorry that this post was not one of your favorites!
Help us understand why.
https://marriageheat.com/wp-content/uploads/2013/04/6289587224_accc21097c_z.jpg
640
594
Mr. and Mrs. Elvis
https://marriageheat.com/wp-content/uploads/2018/09/Artboard-15xxxhdpi.png
Mr. and Mrs. Elvis
2014-02-03 18:20:24
2014-02-08 11:32:28
Sex Wisdom -Wives: Reasons to Love Your Body